9 Soccer Lessons From Super Mario Brothers
Written by E Kennedy on May 27, 2011
As you watch your children play Nintendo's Mario Brothers on a hot summer afternoon, have you ever thought to yourself, "Hmmm, this video game is really teaching my children excellent soccer lessons"? I am thinking the answer is, umm no!  You are probably more bothered by the fact that they're sitting in the house staring at the television screen rather than playing outside and enjoying the UV sun filled skies.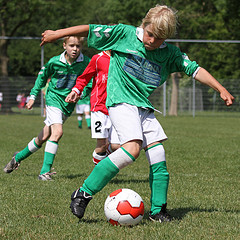 Fear not! Even though they are not physically being active they are actually being mentally active without even knowing it.  It's just a matter a wonderful parent, such as yourself, should discover these lessons in the video game.  Are you convinced yet?  I think I heard a stern no.  Okay, well, let me begin by sharing this wonderful article, "Soccer Lessons From the 3 Musketeers" by Thomas Karapatsos.  After you take a moment from your hectic life and read this interesting and amusing article you will quickly experience an "Aha!" moment and order your athletes to play 4 hours of video games or no dessert!  Haha, I am only joking about the 4 hours.  Why not 6?
The following sport lessons from Nintendo Super Mario Brothers game displays the often overlooked association between playing soccer and playing Super Mario Brothers.
Keep moving forward toward your goals and only reflect and learn from the past.
Training will give you mental and physical strength and in turn confidence to overcome obstacles on the field.
Do not confuse confidence with arrogance.  Keep in mind that your hot streak is only temporary and is often subsided with reality.
Personal character is essential to strengthening bridges amongst players, coaches, and society.  Treating others disrespectfully will only receive negative responses.
Practice, practice, practice.
Conforming does not always harvest the most rewards, so dare to try something new.
Relishing and learning from your soccer journey rather than solely on the end result builds a strong foundation for your success.
Opportunities come and go.  Be sure to seize the moment when it comes knocking on your door and strategically decide how it can help you reach your goal.
Don't ever second guess yourself when you are nearing the finish line.  Approach your goal with determination and tenacity.
Do these lessons give you a clearer picture?  Now, this does not mean you should purchase every Nintendo Mario Brothers game in hopes of building a superstar athlete.  The main point to take away from this insight is to not only recognize the importance of these lessons but to also apply them.  These wonderful lessons are worthless if they are not put to the test.  So, have your athletes apply some of these main lessons and also keep in mind their safety in the sun.  Always remember to take frequent breaks from the sun under a UV soccer umbrella.  Don't know where to find a top of the line UV sun shade umbrella?  No worries!  You can easily find one at www.joeshade.com and other interesting stories on sports, outdoor life, promotions, and health.