Trash Talking Alec Baldwin And John Krasinski Are Loyal Baseball Fans!
Written by E Kennedy on June 13, 2011
Baseball Umbrella Keeps Celebrities Cool!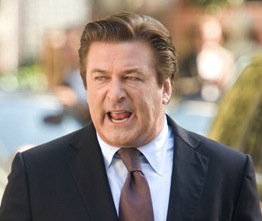 It's baseball season and the heat is on!  Just ask Alec Baldwin, a die-hard New York Yankee's baseball fan and John Krasinski, a die-hard Boston Red Sox fan "what's up!"  They'll tell you and won't hold back on their opinions either. You can watch their intense baseball banter on this fun YouTube video we found as they wind up for this years World Series predictions. Their trash talking gets a little crazy, so be prepared. And did you think actors only care about the big screen? Think again! It's surprising to me how many celebrities are hard-core baseball fans. You can occasionally catch celebrities at games soaking up the sun, or sometimes off in the shade trying to keep to themselves. Whatever the case may be, celebrities are loyal baseball fans too and, in some cases, speak their opinions on Facebook and Twitter.
But wait a minute, you might ask, where's all this coming from anyway?  I thought actors were the type with perpetual tans that liked to hang out in LA ordering fruity drinks from their pool boy!  You know, limos, clubs, paparazzi, Paris Hilton. Oops, sorry Paris! But the truth is baseball brings out passion, loyalty and intense rivalry between teams and their fans.
The rivalry between the New York Yankees and the Boston Red Sox goes back 100 years.  It's one of the oldest, most famous and fiercest rivalries in professional sports. The rivalry is sometimes so polarizing that it's often a heated subject, like religion or politics. And lately we've had our fair share of political discussions. OK, what was Anthony Weiner thinking anyway?  It's a D for Direct Message on Twitter Mr. Weiner, not an @!
But getting back to Baldwin and Krasinski these are celebs truly passionate about their teams. When Krasinski jabs at Baldwin, Mr. B calmly states that there's really no rivalry here, "just like fire doesn't have a rivalry with kindling, and lawnmowers don't have a rivalry with grass." Baldwin adamantly states, "the Yankee's are about winning, which we do relentlessly!"
So how about we send them both to JoeShade.com where they can order a baseball umbrella and keep their cool while debating? Heck, we'll even ship it to them for FREE! And while we're at it, let's keep every baseball fan cool and comfortable this summer. For more health tips on how to keep safe in the sun visit JoeShade baseball umbrella. It's ideal for families as a little league baseball umbrella, softball umbrella, soccer umbrella, and lacrosse umbrella. Let's keep our athletes, family and friends safe from the sun's UV rays at www.joeshade.com.