A Portable Shade Umbrella and 3 Other Items To Bring To Your Summer Beach Party
Written by Dave Shober on July 8, 2014
Be Cool and Shaded Under Your Portable Shade Umbrella This Season
It's that time of year again! The weather is beautiful, school is out, and there are so many fun outdoor activities that one can do. So what are you waiting for? Gather your family and friends and take trip to your local beach and throw an amazing Summer Beach Party!
But, before you head out the door, take a look at the top 4 items, including your portable shade umbrella, you should bring to your Summer Beach Party.
1.  Portable Sun Shade Umbrella
The most important part of going to the beach, besides having an amazing time, is staying cool and protected.  And the best way to stay cool is to bring a quality portable sun shade umbrella. JoeShade's unique sun protection fabric will keep you and your friends protected from the harmful UV rays.  Staying cool and preventing skin cancer is something all we must consider.
2.  Sunscreen With A High SPF Factor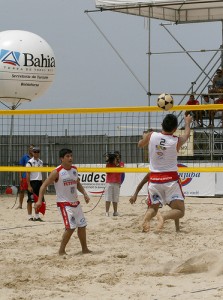 Even though you have your shade umbrella, it's always safe to have sunscreen with you.  Apply your sunscreen liberally to all exposed parts of your body, including your face and ears!  I can't stress how important it is to help shield yourself from harmful UV sun rays.
3.  Beach Volleyball
The name says it all.  Bumping, setting, spiking, and fun are the best parts of beach volleyball.  Thankfully, a volleyball net is usually set up at the beach, so all you need to bring is the volleyball.  This fun game requires a lot of cooperation and teamwork. But beware, the game will get competitive and the players will get hot! Taking a break to cool down under your portable sun shade umbrella will keep everyone happy.
4.  Refillable Water Bottle
You're probably looking forward to the cool and relaxing beach water like me, but the water that should be most important to you is water to drink for hydration.  I recommend bringing a refillable water bottle to help you remain cool under your portable shade umbrella.  And, if you look there's usually a water fountain nearby!
Hopefully, these 4 tips will help make your Summer Beach Party an event to remember for years to come. What are you waiting for, get out there and start having some fun?
We'd love to hear your favorite tips for a successful Beach Party?  Please leave your comments below.