Is It Time For A Coaching Makeover Or An Updo?
Written by E Kennedy on April 20, 2011
Softball practices can be really boring, don't you think? I bet you know at least one coach, ahem maybe yours, that can benefit from some advice on how to improve pitching drills at softball practice.  Perhaps this hits too close to home, right?  Well, we came across this really cool article by Ken Krause, who writes for Life in the Fastpitch Lane blog, that you need to read.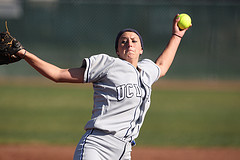 Ken emphasizes the importance of quality pitching over quantity of pitches. As a pitching rule, universal programs don't fit all pitchers. Know your players strengths, weaknesses and prepare individual plans. Ken advises coaches to:
Set goals.  Throwing a set number of pitches may not accomplish anything, in fact, it may cause harm.
Set goals for each practice.  Without a practice plan bad habits can develop.
Think about what you're doing. Develop the mental side of your game.
If you hit your practice goals in the first few pitches, move on to something else.
Don't rush, it's better to work at your game pace.
Understanding the importance of a quality practice over quantity of drills will truly benefit your teams game performance.  So let's get off the pitchers mound and check out Ken's article.  You'll get some good tips on how to improve practice time that you can discuss with your coach.  While a practice makeover may be just what you and your team needs, be forewarned, it may not be a home run with your coach!  We'd suggest that you pick one tip and introduce it as a suggestion, just try it out and see if there's any improvement.  Don't forget being respectful to your coach is of the utmost importance, right?
And keep in mind that practices can be intense.  Remember to take frequent breaks from the sun and cool down under a JoeShade baseball umbrella with UV, drink plenty of water and most importantly have fun.  To learn a unique tip on how to "stay cool" from the suns harmful rays visit www.joeshade.com
If you enjoy our blog, please subscribe through our RSS feed.